The hub of activity at Fox Creek Estates is this 23 acre Main Street Neighborhood which recalls the best characteristics of big and small downtowns. Large open suburban style parking lots are minimized as part of this new urbanism concept. The Fox Main Street will be a place to live, work, shop, dine, and find entertainment all within a 3 block area. Outdoor cafes, concerts at the pavilion, a farmers market, water features, and a bike trail are designed to invite Fox Creek residents and others to this active downtown.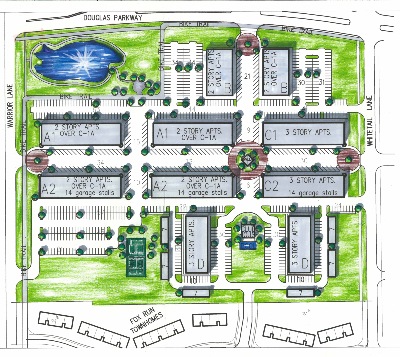 (above) The 4 brick street round-abouts will be landmarks from far away and focal points for pedestrians. They will slow vehicular traffic and the main center round-about will have the pavilion for various events, when the Main Street is closed to cars.


(below) FOX CREEK ESTATES PLANNED DEVELOPMENT, 150 Acres. Site Design by Lee Engineers & Surveyors. The Mixed-Use Development shown above is part of the larger Fox Creek Estates shown below.